OMRON connect Premium subscription
Richer insights. Exclusive features. Healthier heart.
Start Your Free Trial
It's more than just tracking your health data
Exclusive Premium Features
New Premium features and personalised insights put a more complete picture of your health in the palm of your hand. Empowering you to confidently embrace a lifestyle that is good for your heart and supporting better conversations with your healthcare team.
Medication Tracking & Reminders
Taking your medication as recommended by your doctors is important to keep your blood pressure in a healthy range. Medication tracking and daily reminders help you take your meds on time and build healthier habits.
Personalised Health Insights
It's all about you. Daily, weekly and monthly insights into your most important health metrics make it easy to do what is good for your heart.
Superior Consolidated Reporting
Tap into accurate, easy-to-understand reports that integrate your measurements and can be automatically shared with your healthcare team and loved ones. You'll see a more complete picture of your health, with your most important metrics side by side, including blood pressure, physical activity and medication.
Take action, earn rewards!
Be rewarded for doing what's good for your heart. Tracking your blood pressure, maintaining a healthy weight, taking medication as prescribed and being physically active all earn you points which can be redeemed for gift cards. Treat yourself, you've earned it.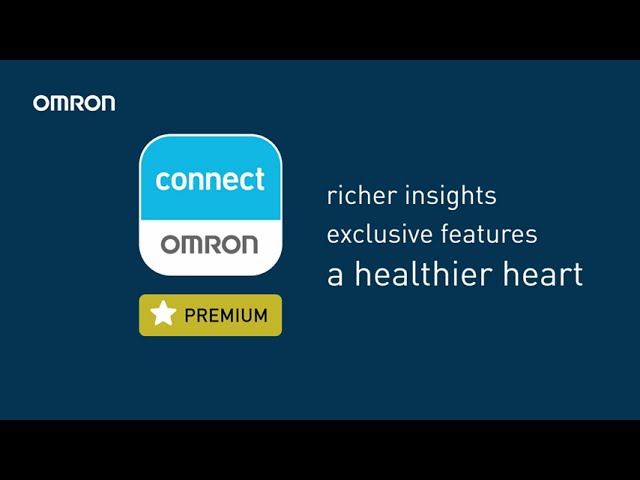 Atrial fibrillation detection*
We have teamed up with CardioSignal, the leading heart rhythm app that uses your mobile phone to measure your heart rhythm and detects potential atrial fibrillation with 96% accuracy**. Your Premium subscription includes free, unlimited use of the CardioSignal app***. Results are automatically stored in OMRON connect and can be shared with your doctor.
Could you be at risk of atrial fibrillation?
Atrial fibrillation is the most common heart rhythm disorder, affecting millions of people globally. Many people do not have symptoms, although some may feel heart palpitations.
Could you be at risk of atrial fibrillation?
High blood pressure can increase your risk of atrial fibrillation. When left untreated, this can lead to serious consequences such as heart failure and stroke.
Could you be at risk of atrial fibrillation?
People with atrial fibrillation often don't feel any symptoms. Regular monitoring is the best way to detect and treat it to prevent complications.
Could you be at risk of atrial fibrillation?
With free, unlimited access to the CardioSignal application*, you can use your smartphone to regularly monitor your heart for signs of potential atrial fibrillation. Share the results with your clinician for follow-up when needed. CardioSignal has a detection accuracy of > 96%*, and has been developed by cardiologists based on more than 10 years of research.
See the bigger picture at a glance
Giving you and your healthcare team an accurate record and complete story, for more control, greater confidence and a healthier heart. Easy-to-follow reports that integrate the data that matters the most. Medication tracking and heart monitoring for your peace of mind. Daily, weekly and monthly insights into your data that encourage healthier habits.
Get rewarded for a healthy lifestyle
Start collecting Health Rewards when you sign up for your Premium subscription. Earn points when you complete healthy activities and track them in your app. The points will be credited when you sync your device. Every 50.000 points can be redeemed for a £5 gift card. Find out below how you can earn points.
FAQ
Your Premium Service trial will start once you add (pair) your Complete/Evolve/M7 Intelli IT device in the OMRON connect app. You can check section "Pairing" on our support page to learn more about the steps. Please be informed that the offer is valid only for users who haven't used 30-days Premium Service trial. In case of any questions please contact us at support-omron.connect@eu.omron.com for assistance.
Yes, the first month of your Premium subscription is free, then you pay as little as £79,99 for an annual plan.
Your first month's subscription to OMRON connect Premium is free. After 30 days you will be charged the monthly subscription. You are welcome to cancel your subscription at any time. If you cancel before the end of the 30 day free trial period you will not be charged.
OMRON connect Premium costs £9,99 per month or £79,99 for a year and includes free atrial fibrillation detection powered by CardioSignal; consolidated, automated reporting; medication tracking; personalised insights and Health Rewards - helping you take even better care of your heart.
It is automatically renewed, you can cancel at any time. If you cancel you will get access to the Premium features until the end of the subscribed period. To cancel the subscription go to your app store.
● How to cancel your subscription on Android?
Open the Google Play app Google Play

At the top right, tap the profile icon.

Tap 'Payments & Subscriptions' and then tap 'Subscriptions'.

Select the subscription you want to cancel.

Tap 'Cancel subscription'.
Important: When you uninstall the app, your subscription won't cancel. Do you want more explanation? Please go to Google Support Cancel Subscription.
Tip: If you have a subscription with an app and the app gets removed from Google Play, your future subscription will be cancelled. Your past subscriptions will not be refunded.
● How to cancel your subscription in iOS Apple?
Open the Settings App

Tap your name

Tap 'Subscriptions'

Tap subscription you want to manage. Don't see the subscription that you're looking for?

Tap Cancel Subscription. (Or if you want to cancel the Apple One but keep some subscriptions, tap Choose Individual Services.) If you don't see Cancel, the subscription is already cancelled and won't renew.
Do you want more explanation? Please go to https://support.apple.com/en-us/HT202039
Didn't find what you need?
Get in touch with us!
Contact Us
References
* Not applicable for 1 Year Free Premium promotion with OMRON Complete. Visit our support page to know more.
** Mobile Phone Detection of Atrial Fibrillation With Mechanocardiography.
*** Requires download of CardioSignal App. Free use of CardioSignal when accessed via the OMRON connect App. OMRON connect and CardioSignal should not be used for self-diagnosis, positive detection results should always be followed up with a clinician for review and further diagnostic testing.