Complete
HEM-7530T-E
Electrocardiogram
OMRON Complete Electrocardiogram
See more cardiac data, detect patients' risk earlier
OMRON Complete takes an ECG with a regular blood pressure check for comprehensive cardiac insight to help better inform diagnoses and treatment decisions for your patients.
Instant AFib detection helps reduce the risk of stroke
Atrial fibrillation (AFib) commonly occurs with hypertension, and is associated with a 5x greater risk of stroke.1 With effective treatment, the risk of stroke can be reduced.2,3 However, up to 50% of AFib cases present with no subjective symptoms, making it unlikely to detect in an annual physical exam.4 To reduce patients' risk of stroke, medical guidelines recommend daily blood pressure measurements and screening with a single-lead electrocardiogram (ECG).5
Product benefits
Instant, easy & accurate
OMRON Complete instantly displays blood pressure measurements and ECG results. Translates ECG readings into a clear message, so users easily understand if a heart rhythm irregularity like AFib is detected or not. Supported by clinically validated accuracy of both ECG and blood pressure readings.
Screen for a range of cardiac conditions with just one device
OMRON Complete is designed to quickly detect:
• Heart rhythm irregularities, such as AFib, tachycardia, bradycardia
• Hypertension & hypotension
• Normal sinus rhythm
Patient care that goes beyond the office visit
OMRON Connect app allows patients to securely share results from the comfort of their home. This supports continuous care conversations with patients or their caregivers, even after they leave the office.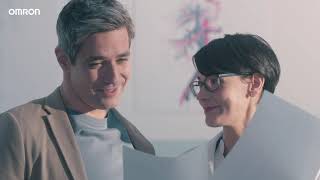 Introducing Complete
We know that hypertension often comes with atrial fibrillation and can present no symptoms but lead to a stroke if left unchecked.
Discover Omron Complete – a device that helps your patients easily and accurately screen for their risk at home.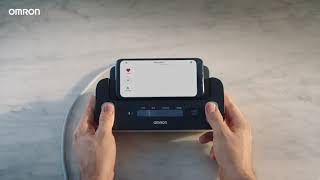 Easy to Use
Blood pressure and ECG measurements? Meet OMRON Complete.
Here's how you do it
Diagnostic Value of Atrial Fibrillation by Built-in Electrocardiogram Technology in a Blood Pressure Monitor
Hypertension is a well known risk factor for stroke in patients with atrial fibrillation. A new device, Complete, combines blood pressure monitoring with ECG monitoring which can accurately differentiate sinus rhythm from atrial fibrillation during a blood pressure measurement.6
Read more
Watch our webinar recording to learn more about AF Screening at home
This live webinar brings together three leading experts (Prof Dr med Bernd Sanner, Prof Dr Faizel Osman & Assoc Prof Keitaro Senoo )in Atrial Fibrillation. It aims to inform on the importance of early detection of AF and the 2020 ESC Guidelines for the diagnosis and management of atrial fibrillation blood pressure in cardiovascular risk assessment, educate on the impact of sleep disturbance, and disseminate best practice for blood pressure monitoring for hypertensive patients.

In addition to three informative presentations and engaging discussion, this interactive session will include a live audience Q&A, with the panel on hand to take your questions to best support you in achieving optimal patient outcomes.
Click here to see the full webinar video
With OMRON Complete, you can take an ECG with a regular blood pressure check
Takes two critical measurements at once to help detect patients' risk of stroke earlier
Provides accurate results to aid diagnoses and effective treatment recommendations
Helps patients and their caregivers actively monitor the risk of a stroke at home
Features and cautions
AFib is associated with a 5x greater risk of stroke and heart failure, so it's important to detect and begin treatment early.
Unfortunately, AFib can show no symptoms and may not be present during doctor's visits because the episodes come and go, which means it's often left undiagnosed.
Given how serious AFib complications can be, it is important for those who may be at risk to routinely record electrocardiogram (ECG) measurements, according to current medical guidelines.
OMRON Complete is NOT intended for diagnosis of any cardiac conditions without a healthcare professional. Consult a healthcare professional prior to use.
References
1. Complications: atrial fibrillation. NHS. Reviewed April 24, 2018. Accessed November 2, 2020. https://www.nhs.uk/conditions/atrial-fibrillation/complications.
2. Gómez-Outes A, Lagunar-Ruíz J, Terleira-Fernández A, Calvo-Rojas G, Suárez-Gea ML, Vargas-Castrillón E. Causes of death in anticoagulated patients with atrial fibrillation. J Am Coll Cardiol. 2016;68(23):2508-2521.
3. Hart RG, Pearce LA, Aguilar MI. Meta-analysis: antithrombotic therapy to prevent stroke in patients who have nonvalvular atrial fibrillation. Ann Intern Med. 2007;146(12):857-867.
4. Esato M, Chun Y, An Y, et al. Clinical impact of asymptomatic presentation status in patients with paroxysmal and sustained atrial fibrillation: the Fushimi AF Registry. Chest. 2017;152(6):1266-1275.
5. Hindricks G, Potpara T, Dagres N, et al. 2020 ESC Guidelines for the diagnosis and management of atrial fibrillation developed in collaboration with the European Association of Cardio-Thoracic Surgery (EACTS). Eur Heart J. 2020;ehaa612. doi:10.10/93/eurheartj/ehaa612.
6. Senoo K., et al. Diagnostic Value of Atrial Fibrillation by Built-in Electrocardiogram Technology in a Blood Pressure Monitor. 2020. J-STAGE, 2(7): 345-350
Specifications
Intellisense Technology

Yes

Memory

90 Readings

Body Movement Detection

Yes

Irregular heartbeat detection

Yes

Device type

Electrocardiogram

Storage case included

Yes

Compatible mobile app

Compatible with Omron connect app

Cuff wrap guide

Yes

Connected

Yes

Consumer or Professional

Professional

Averaging Function

Yes

Cuff type

Easy Cuff 22–42 cm

Validation

Clinical Validation

Weight (kg)

550.00

Item dimensions (mm)

232 x 123 x 98
What's in the box
1x Complete 2-in-1 blood pressure monitor and ECG with 22 – 42 cm Easy cuff
4 x AA batteries
instruction manual
storage case
Compatibility
To see a list of smartphones tested with OMRON connect and Asthma Diary, please click here.

To see a list of smartphones tested with KardiaMobile, please click here.

To see a list of smartphones tested with HeartAdvisor, please click here.
Instruction manual and support
FAQ
Please try to wipe the electrodes with an alcohol disinfectant spray or moisten your fingers with a wet towel before recording.
Please tap "+Add Device" in the "Devices screen" to pair your monitor with phone.
This depends on your condition and doctor's advise. Please refer to your doctor for your personalized advise.
Please make sure that the "OMRON connect" app can access to the microphone of your smartphone. Open the settings on your smartphone and turn on the microphone settings in the "OMRON connect" app.
Shipping and returns
Shipping information
Return information